Hey Craft Breweries...Happy Holidays From Ball Corp

Hey Craft Brewers—Don't Call Ball Corp for Your Aluminum Cans—FYI
This disturbing article a few days ago from Jonathan Shikes aka @ColoBeerMan and Westword is very telling not only about the supply chain but our world in general. While Jonathan has focused this article on Denver-area craft breweries, it would be a similar story in Boston, Cleveland, Charleston, or anywhere else. I'm assuming since all of these breweries commented for Jonathan and this story, they're being affected...and those companies are Denver Beer Co, Dry Dock Brewing, Upslope, and River North.
Again, this is disturbing for several reasons, which I'll get into below.
Customer Service 101 and US Factories
Pre-Covid and now...whatever period you want to call this (are we post-Covid, Covid-lite, Booster Shot Covid?), certain industries have been at complete capacity. Aluminum cans is one of them. We've also seen this happen for child-resistant caps and lids for pill bottles, capsules for medicine gel capsules, plastic pails and containers, even raw ingredients.
Factories like Mold-Rite may bill themselves as more than plastic caps and lids, but in reality they're just that. Think spice jars (flapper lids and dispensing caps). These companies are running at 10-12 month lead times and often more. Ask any of their customers if they've received an order complete or on time in the past year, and the answer won't even be a "no"— it will be a sarcastic laugh.
Now — and really no surprise — Ball Corp pulls this nonsense. I call it bulls#$t but what do I know. I'm just part of a company and network watching this unfold before my eyes with answers and options if only we could get to the right decision-maker. You know, the one with "skin in the game" that really needs to find options and solutions, versus Deb the Buyer who orders only the automatically generated items that cross her computer screen, has a predetermined smoke break at 10 AM and 2 PM, savors lunch at Noon, and punches out promptly at 4:59.
Spoiler Alert: Ball Corp last week started notifying customers (CUSTOMERS...not prospects...Existing Customers) that they will immediately be required to order 5 times (yes, five times) as many printed Ball cans as they normally do in order to continue doing business with Ball.
Nice...well done. Happy Holidays Denver Beer, Dry Dock, Upslope, and River Ncansorth! This should make for good conversations and examples of what NOT to do for those in the customer service business.
Printed Aluminum Cans
While I'm all for buying from American companies — pre-Trump and even now — the reality is Ball Corp, Crown, and even a few others in the industry really are tied to Budweiser, Coors, and the rest of the Big Boys. Everyone else, they aren't interested. It's sad, but some of the most sophisticated printed cans are being made in Vietnam, Taiwan, and China for Red Bull (not a beer), Tsingtao, and real Heineken Beer from the "motherland"...not a watered-down version made in the US. These cans are available, printed, and on the water in 45 days.
No Way...That's Not What I Heard...
You heard wrong. There are ways to get printed cans and not have to order 5 times what you normally order. There are ways to reduce and minimize the lead time using US Supply Chain (it is not completely broke). There are ways to have all the same features and styles you've come to appreciate from Ball and Crown and anyone else (Tall Boys, Stubby, Regular, etc).
What About Cost?
Let's talk cost. It all depends on your order quantity, how often you order, how many SKUs, etc...but I know you'll be pleasantly surprised to find that you DO have alternatives when you have overseas suppliers and a US-based Service / Support / Supply Chain team. Best of all, you won't have to order five times your normal order quantity.
How Would Supply Chain Work?
Overseas factories run your order and can ship immediately to US warehouses, or they can run several SKUs and HOLD, then ship what you need via regularly scheduled containers...or better yet, hold in an overseas warehouse and ship via "distressed/canceled containers" at a fraction of the cost.
We all know cans take up space, but if planned in advance, containers ARE available and you won't have to necessarily ship to Long Beach. Or you just bite the bullet, get an order going, bring them into the US, and be done with this. Either way, you aren't at the mercy of Ball Corp or anyone else like them.
Are There Alternatives? Enter The Beer Pouch.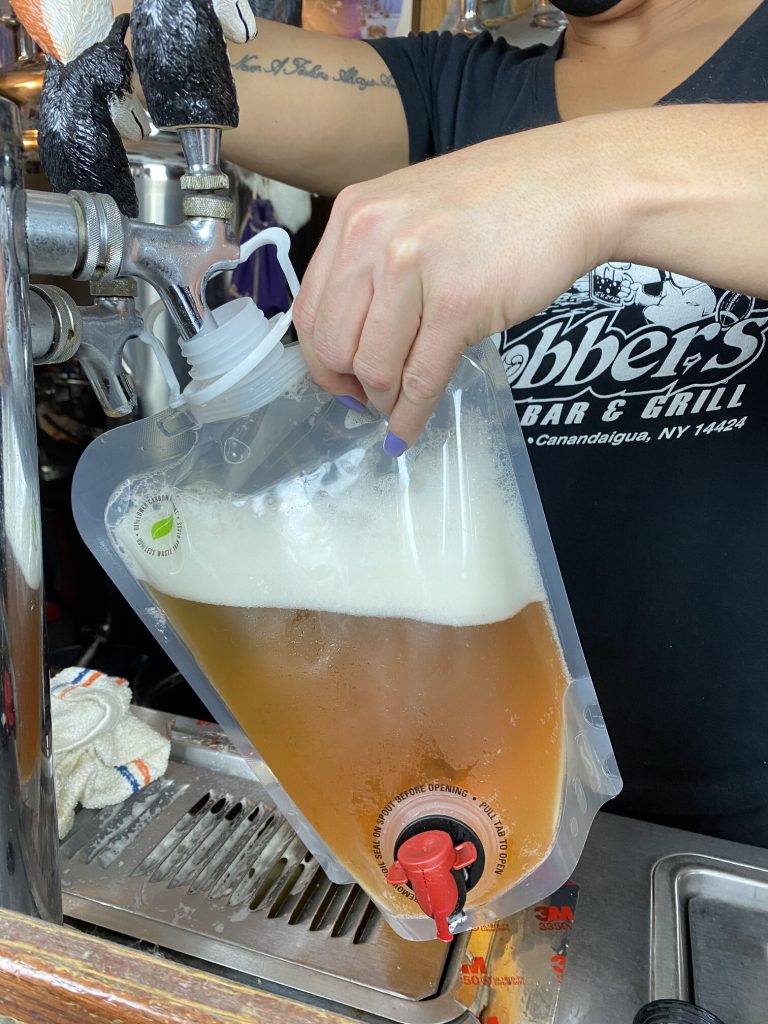 Recent advancements in film technology now allow film to "breathe," which has led to The Beer Pouch...a game-changer for the Take-Out / Carry Out / Craft Brewery market. For the beach, ballgame, home party...take the party with you! The Beer Pouch is a cost-effective alternative to Ball cans, growlers, mini-kegs, and more. It's reusable, cost-effective, and recyclable, with printing available in up to 10 colors and options for handles, spigot spouts, pour spouts, and other exciting possibilities.
In closing: What Ball Corp and others like them are doing is wrong, and despite what their corporate reports or annual meeting notes (or their websites) say...they don't care about the Small-Medium or even Medium-Large company. They Don't Care. Get used to it. But, you have alternatives...you just need to know where to look and who to call.