Can I Package Beer In A Stand Up Pouch?
It wasn't that long ago that we could honestly say "NO," but things are changing and have changed when it comes to "breathable film technology." Because of the carbonation in beer and the laminated films used to create a stand up pouch (meaning the film layers are airtight), it wouldn't take long for the carbonation to expand in a pouch and have no way to escape...causing quite a mess when the pouch would burst:
Historically the beer industry packaged their prized liquid into glass or even rigid plastic that could contain the carbonation without bursting. However, glass or thick plastic bottles are expensive to create, to ship, and to store. Aluminum cans, meanwhile, are not only expensive to make but currently have a 12 month (yes, A YEAR) lead time for custom printed cans.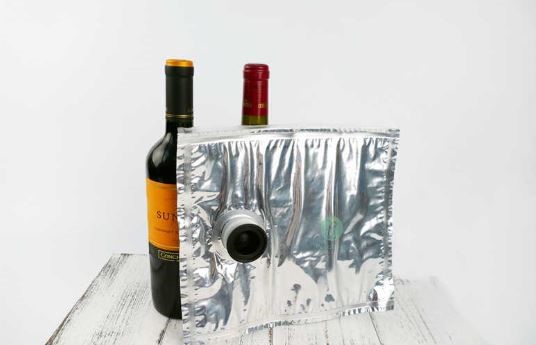 The beer industry has exploded with craft brews, artisan ales, sparkling waters, and juices but the packaging has remained stale and stagnant at best. If there is anything Covid taught us (at least in the US), it's that consumers don't want to go without their favorite beers and carbonated beverages — even if restaurants and bars are closed. Enter the "Beer Pouch." It's safe for carbonated beverages like beer while maintaining the flavor and fizz a customer has become accustomed to without the bursting risk of the old traditional pouches.
A combination of laminated films are used to make a stand up pouch...and each of these layers serves a purpose. The outer layer provides strength and puncture resistance, the inner layers often are the printed layer, and the innermost layer is always the food-grade sealant layer that allows the bag to be heat sealed and formed into shape. These layers were purposely airtight in the past, as they kept the contents fresh and extended the shelf life for foods and non-foods alike.
I believe (but it's just a guess) that the shortages caused by Covid accelerated the design and use of The Beer Pouch. Breathable layers of film — that won't leak — can now be used to hold beer in 1, 2, 3, and even 4-liter quantities (or more). The film allows some of the carbonation to escape while the consumer still enjoys the fizz and flavor they have come to expect.
The Beer Pouch is a cost-effective, convenient example of advanced technology in the laminated film industry. You can get these beer pouches printed up to 10 colors and fill them right through the spout/cap on the pouch. It's a perfect beverage packaging solution for carry-out-cafe's, restaurants, and breweries that want to provide a safe, simple, disposable, and recyclable pouch for corporate events, picnics, trips to the amusement park, and beyond.
The Beer Pouch is:
Cost-effective
Sustainable
Recyclable
Reusable
Mother Earth Friendly
Consumer and Retailer Friendly
Contact The Oversea Network to learn more or get samples today.