Soup In a Bag — Really — Cuts Space, Saves Money, & Wows Customers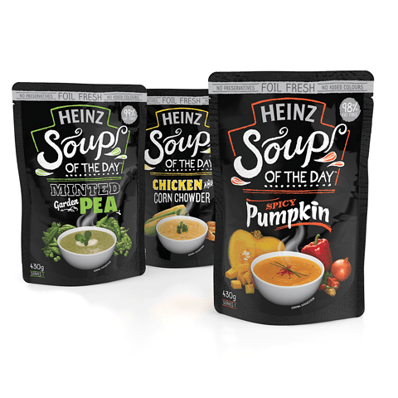 We get it. Soup has come in cans for more than a hundred years. But we used to cross the country on horseback, too. The truth is that cans, today, have been outclassed in more ways than one. Consider:
Cans Are Expensive
Metal makes up just 10% of food packaging — and for good reason. Materials are expensive, shipping is expensive (it's heavier than paper or plastic), and metal cans require various protective coatings or treatments to prevent corrosion or the leaching of microscopic metal particles into food.
Why does it stick around? It's traditional. But it's time to think outside of the can.
Rigid Containers Eat Space
It makes sense that rigid cans are experiencing less than half of the growth of flexible packaging like plastic stand up pouches, which innately save space. A rigid can takes up the same amount of space empty, full, or even when discarded, whereas a flexible pouch or bag shrinks as its contents shrink.
Flexible packaging solutions have retailers excited — cans don't. You can ship a pouch flat, store it flat, and dispose of it flat. Flexible packages even take up less space on the shelf, since they conform better to the shape of the products around them rather than leaving unavoidable gaps.
You Can't Microwave Metal
Soup is eaten hot. Convenience is the name of the game in retail, so how is your metal can making the customer's life easier? They've got to open it and empty it into a bowl before they can warm it up and smell your delicious product steaming and ready to eat.
A retort pouch allows customers to throw the package in the microwave oven and heat up their soup right in the bag. Better yet, you can even cook your soups in the pouches, 30,000 at a time, right in the factory! Load the filled bags all into a big retort oven, prepare your product conveniently, in the package, kill out impurities, and get it on a shelf.
Retort Pouches Are Tried and True
Flexible packaging is not a new idea. Military MREs, space food, camping foods, instant noodles, and a ton of other products have used retort pouches for years. This is a proven, convenient product that even stands up on its own with the inclusion of a bottom gusset (a "stand-up pouch"). It's time to bring the benefits of this innovative packaging style to other foods that benefit from:
The incredible safety of sterile packaging and aseptic processing

The convenience that will inspire customers to reach for it on the shelf

The cost savings from cheaper shipping, storage, and materials

Faster lead times (The Oversea Network can deliver high numbers of retort pouches fast)
ABOVE: Military MRE bean and rice burrito
On top of it all, you can keep a massive inventory of unfilled pouches on hand for your product, as soon as it's ready, with extremely little storage space.
You've already seen traditionally canned products like Bumble Bee tuna fish convert over to foil-lined pouches for many of these same reasons, and the packaging is much more eye-catching with a large, edge-to-edge flat surface for colorful branding. Soup-in-a-bag and other such innovations offer retailers and food brands a creative and nearly-effortless way to serve up their products than ever before.