7 Reasons to Ditch the Jug For Pouches With Spouts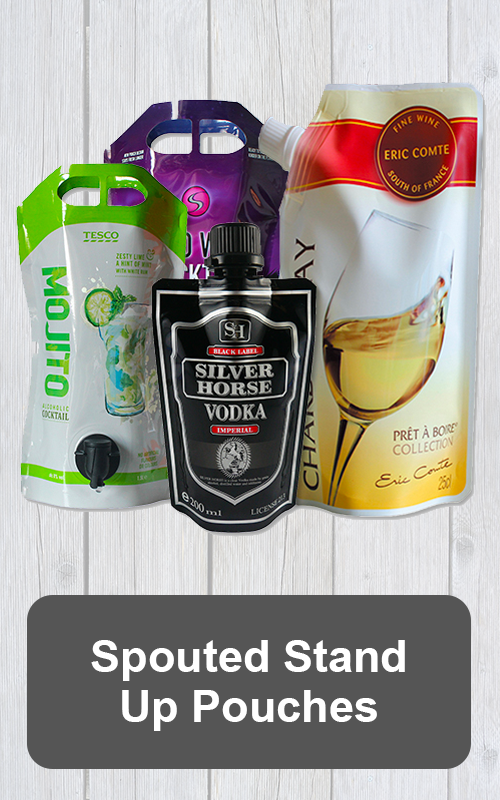 Spout pouch packaging is making major inroads in American retail, and for good reason. The rigid containers of yesteryear — bottles, canisters, jugs, and the like — are too boring and inefficient to compete with the innovative design of modern pouches with spouts. Here are a few reasons that liquid spout bags, stand up pouches with spigots, squeeze pouches, and other styles of pouches with spouts could make ditching the jug worth it:
1. Conforms to the Space
Fit more of your product on the shelf with the efficient design of spouted stand up pouches. Flexible packaging can bend and conform to the needs of the space without leaving empty, wasted space that could hold more of your product. It's great on the consumer's shelf, too, since the packaging will shrink as your product is used up.
2. Dispense Right From the Shelf
Pouches with spouts can be much easier for the consumer to use than a heavy and cumbersome plastic jug. You might try affixing a spigot spout to the bottom edge of the packaging, rather than a top-mounted spout, so that the buyer can leave it where it stands and dispense your product easily, without ever picking it up (just like water coolers or boxed wine).
3. Less Plastic
A rigid jug needs a lot of plastic to hold form. Help the environment and feel good about your packaging choice with spout pouch packaging that needs far less plastic to accomplish the same mission. Today's environmentally-conscious buyers love to see reduced plastic messaging, too.
4. Ships and Stores Flat
Only so many big empty jugs can fit on a pallet or a truck. How many shipments will it take before you have enough packaging to fulfill all the orders for your product? When you go with pouches with spouts, the answer is simple: one. Order thousands of pouches at once and have them all shipped to your factory in a flat, space-saving shape that also stores easily until you need them.
5. Reduces Landfill Impact
Spouted stand up pouches dispose flat, too. While both jugs and pouches can be made from recyclable plastics, it's inevitable that a portion of them will end up in landfills. Rigid jugs eat up a lot of space with empty air, whereas pouches with spouts help preserve room in the disposal location and reduce the overall environmental impact. Spouted pouch packaging is the more sustainable choice.
6. Stands Out on the Shelf
The Sea of the Same™ is your worst enemy. When all of your primary competitors are stuck with the status quo, do something different and instantly make your product stand out on the shelf to every passing eye. Jugs are boring and conventional and will make your product look just like everyone else's. Stand up pouches with spouts are different, forward-thinking, convenient, and environmentally friendly. It's easy to cover the entire package, edge-to-edge, with bright and attractive laser-printed branding without a whole separate labeling process, too.
7. Fraction of the Cost to Make
Between the reduced plastic in manufacturing, savings on fuel and truck space for shipping, and small amount of space required to maintain your inventory, pouches with spouts can dramatically reduce the cost of packaging.
Get in contact with Stand Up Pouches, an ABC Packaging company, for access to our cost-effective and versatile lineup of spout pouch options. We're a sourcing partner that can get you the pouches you need without the delayed lead times currently plaguing conventional local suppliers. Call us up — we'd be happy to share more about how spouts with pouches can make a huge difference for your brand!